ANTON KRAJNC
Born 1949 in Graz, Austria, Anton Krajnc began his art studies at the Viennese Academy of Fine Arts in 1968,
continued in Urbino, Italy, at Accademia Raffaello,
and received his Masters Degree by Prof Melcher in Vienna, in 1972.

Krajnc moved to The United States in 1973,
where his career began with a first One Man Show in New York.
Since then, Krajnc has consistently created original art,
from drawings on handmade paper, to color lithographs, mezzotints,
oils on canvas, true frescoes and, starting in 1999, intricate bronze and glass sculptures.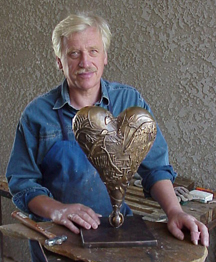 Critics around the globe have praised his work as
"exquisite, subtle and brilliant".
Krajnc consistently follows his instincts.
Shunning trends and short-lived fashions in art,
the artist has developed his own unique style and very recognizable "handwriting",
interweaving reality and illusion, nature and architecture,
often depicting himself as the symbolic link.

Currently Anton Krajnc is creating a book, documenting his ever-evolving art,
and finishing work on his very special house in Slovenia,
which will have a permanent exhibition space.
He named it AD VINEAS, since it sits among his private vineyards.
YES, he is also making wine!
A different kind of art he is quickly perfecting.

For more information see/contact

ATELIER ANTON KRAJNC
AK STUDIO
PO Box 68013
TUCSON, AZ 85737, USA
akstudio@flash.net
and soon again online here:
http://www.dagmarfoto.com/AntonKrajnc





updated February, 2012