CURLS and LOCKS
(Dagmar's shiny, gleaming... locket of a guestbook)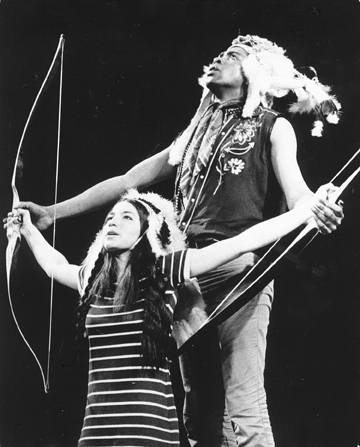 Leata Galloway and Donnie Burks performing "Oh, Great Manitou!"
in the original Broadway production, April 1968



Feedback, comments and insights
from HAIR aficionados around the globe
Would you like to add something?

Don't give up on me - there are quite a few comments I have to add to this page,
all just as wonderful and inspiring
I keep them in a special treasure chest for now,
but DO WANT TO SHARE THEM WITH YOU!!
SOON

There's more in the GUESTBOOK ARCHIVES

NOTE : the word "remove"has been added to all email addresses, to fool mechanical address collectors .
If you want to contact anybody from my guestbook, just actually remove that word.

Sat, 22 Dec. 2001
Hello.
Thank you for your site.
I'm not in any of the HAIR productions.
But I did work with Jonathan Kramer in "Jesus Christ Superstar"- JCSs.
Just found out that he passed away in 1976... not sure how though.
Does anybody know? Thanks for a reply.
Kind Regards
A.HUD (a.hudremove@ntlworld.com)



Sat, Oct 28 2001
How lovely to get such an enthusiastic response from you! Thanks so
           much. I have put together a page for the archives with seven of your
           photos - I love them all so much that it is almost impossible for me not
           to want to use them all, but I must leave something to encourage folks
           to go to your site and see the rest! ;-) There are some great rehearsal
           shots in Lorrie Davis' book, and some great production shots in the
           vocal selections book (although the printing quality there is less than
           I would like) and I am tempted to scan a few of them, but we shall see.
           I want to go through the photos I have scanned into the archives already
           and see which scenes in the show aren't represented at all, and perhaps
           use photos of those scenes...
           I have a page on geocities - the archives won't be there but I use it
           occasionally as a place to throw up a page that I want someone else to
           have a chance to see - accessible only to the person I send the URL to,
           and only there for a brief time. I will try and get what I have so far
           of your page up there in the next few days and you can see if it pleases
           you. Mind you, you don't need to participate in this at all if you don't
           want to - I've just been a fan of your work for so long that I would
           like you to be happy with whatever I put up.

Nina Dayton (daytonremove@javanet.com)



Mon, 3 Sep 2001
re: HAARE and DONNA
Thanks for the awesome scan of Donna, Helmut and Baby Mimi.
It blew me away !!
You're the best !!
-Jon (JOHNSUMMERFVRremove@aol.com)



Sun, 26 Aug 2001
  Subject:   Behind The Music: Hair  

           Hi Dagmar 

           I just caught the premiere of the Behind The Music on Hair. I just 
           wanted to let you know that I love the pictures! Between those and the 
           video footage VH1 dug up, they really put me there (which isn't easy 
           because I was just a little kid when Hair opened and didn't really get a 
           lot of what was going on around me at the time.) I may have to dig out 
           my soundtrack and put it on later.  LOL 

           If it's OK with you - I grabbed a couple of screencaptures of some of 
           the Donna pictures and I'd like to post them on my site (along with your 
           link and a reminder that you hold all the copyrights still.) 

YES, THAT'S HOW IT'S DONE! (Dagmar)

   You are in the credits at the end, and I did recognize quite a few of your 
           pictures and some others that aren't on your site but that I presume are 
           yours. 

           They did a really nice job. They interviewed a bunch of former cast 
           members and others who were involved. (Aside from Donna and Mary Davis, 
           there was  Meatloaf, Melba Moore, Michael Butler, Tommy Smothers, James 
           Rado, Treat Williams, Bertrand Castelli, and a bunch of others whose 
           names escape me at the moment.) And they managed to dig up a lot of 
           video footage from some TV appearances. The energy level in the clips 
           and the photos made it all look like such fun.  It just made me want to 
           see the play again and it sort of made me a little sorry I missed that 
           era.  (Although I do remember my dad with long hair and love beads which 
           if you saw how he is now, you would laugh hysterically at the thought. 
           These days he's mister arch-conservative.  (LOL) They had some cute 
           stories too about how various people ended up getting their parts. 

           I haven't heard anything about Donna going to Germany next month, but if 
           it's a situation where she wouldn't be performing I wouldn't necessarily 
           hear about it before the fact. I do know she was performing in Morocco 
           last night for the king, and in October she's doing some Wine convention 
           or something here in New York. 
Take care,
Cathy ("Catherine Hawkins" ordinarydivaremove@earthlink.net)
The Donna Summer Tribute Site: www.donna-tribute.com



Sun, 29 Jul 2001
HAIR 2001
Dagmar,
The 33rd anniversary production of HAIR opened July 12 at The Coast Playhouse
in West Hollywood. Former cast members are joining the tribe on stage
as Margaret Mead and Hubert (or Alana the female counterpart).
If you are near LA, please come visit us.
david james (HairMale1remove@aol.com)



Sat, 30 Jun, 01
Dagmar,
Spent some time having fun looking at all the photos on your rock photo page.
Great stuff! Somehow I hadn't seen that page since it's infancy.
Glad you sent the link. You should do some books Dagmar -
A book of the rock stuff would be fantastic, and with all the current interest in Hair
it might be the time to do a nice coffee table type book of your Hair photographs.....
Love,
Birdie (daytonremove@javanet.com)



Mon, 25 Jun 2001
Hello:)
Okay, firstly, I just want to say I think you're awesome!
I bought the Original London cast of Hair the other day,
I swear it's been the only thing I've been listening to.
I bought it mainly for Elaine Paige. I was wondering if perhaps you had
any photos or pictures of EP and the tribe of "Fresh Hair"?
I so look foreward to hearing from you:)
Tana Leigh Pierce (tleighpierceremove@yahoo.com)
www.homestead.com/fvassy

DOES ANYBODY?? WRITE TO TANA! (Dagmar)



Thu, 21 Jun 2001
jobriath and me....!
I'm finally giving in to the project that has haunted me for the last three years -
writing a comprehensive biography of the brilliant Bruce Wayne Campbell, aka Jobriath.
I'm assuming you had close contact with him over the years?
I'd love to discuss this with you further, if you're so inclined to share your memories with me.
If you need to verify my credentials, I think we know several of the same people -
Lisa Fancher, John Michael Cox, Rob Cochrane, Ann Magnuson, Jay Reisberg, Bill Fogle,
Miss Mercy, Cynthia Plaster Caster and others.
I hope to hear from you soon. Your photos are a treasure, by the way!
Take care. Best regards, Steve Gdula (lchapmanremove@erols.com)



Tue, 12 Jun 01

Subject: the writers of HAIR
Hi
I am trying to write a paper about Hair the musical and i need to know about
the lives of Gerome Ragni and James Rado.
I was wondering if you had any idea where I could find information on that,
because i can't find anything. Thanks a lot!
-Laura (LoRo36remove@aol.com)

Dagmar replies:
try the HAIR Archives
http://www.michaelbutler.com/hair/holding/Hair.html
"Hair Online Archives
                An online resource of articles, photos, clippings,
                memorabilia and more, recording the history of the musical
                HAIR, from it's initial Off Broadway opening in October of
                1967, to it's closing on Broadway on July 1, 1972, and beyond.
                There are also archives here pertaining to the "children" of
                HAIR: DUDE, and RAINBOW, as well as information
                about the careers of HAIR's creators - James Rado, Gerome
                Ragni, Galt MacDermot, Tom O'Horgan, and Michael
                Butler - both before and after their involvement with HAIR.""


Sun, 3 Jun '01
Hi Dagmar!
Congrats on your Hair site! It's just WONDERFUL!
I'm looking like crazy for the Haare's (German version of Hair) lyrics.
Would you please send them to me or at least send me a link to where
I could find them? Thank you. :-)
Sandro (from Brazil)(s.coutinhoremove@uol.com.br)



Mon, 28 May 01
I am trying to find out who the female African Americans were in the Broadway production.
My niece read an autobiography by the lead? actress in which she traced
her roots to 2 shouse brothers in Mt. Eden, Kentucky.
That would make her my relative. Any ideas on who she might be,
so I can track down the book?
Netta Shouse Putnam (godfearnremove@juno.com)

Dagmar replies:
Well, my guess would be Melba Moore, but I don't know the book.
the other "girls" were:
Mary Lorrie Davis, born May 24 in New York,
but she has not written an autobiography yet,
her book LETTING DOWN MY HAIR is currently out of print,
but she's thinking of re-publishing it.
her email is: msmld@earthlink.net
Emmeretta Marks, born March 15, 1945 in Washington
Leata Galloway, born Dec 7, 1950 in NYC
she lives in Los Angeles and still sings,
but I don't think she has an autobiography out - yet!
Then there's Donna Summer, but she was in the Munich cast.
Let me know what you find out!!

And anybody reading this, who might have some relevant info,
please write to Netta and me! Thanks!



Tue, 15 May 01
Hallo Dagmar,
Hair im Raimundtheater hat uns ganz toll gefallen. Es war wirklich super.
Sehr sexy das ganze, tolle Sänger und Tänzer.
Die Ausstellung konnten wir leider nicht mehr ganz bis zum Ende anschauen,
weil sie uns das Licht abgeschalten haben, aber da kann man ja noch mal hingehen.
Hab gesehen, sogar Fischlham ist erwähnt.
Liebe Grüsse und Bussi an dich und Toni!
Dani (dani.auzingerremove@gmx.at)



Fri May 4 01
The HAIR ARCHIVES SITE IS UP!!!
Finally, The Hair Online Archives are on the net. There are almost 300 articles
and over 800 photographs chronicling the history of Hair.
There are sub sections on the "children" of Hair - Dude and Rainbow,
as well as sections on the Pre and Post Hair careers of Hair's creators -
Gerry Ragni, Jim Rado, Galt MacDermot, Tom O'Horgan, and Michael Butler.
New things will be added often (lots of articles and photos already waiting to be added), so be sure and check in regularly.

A special thanks to Michael Butler for giving the Archives the home it deserves.
And thanks for the support, and patience of those who have waited so long
for this to happen. I think you'll find it was worth the wait.

This is a one time mailing to people who have asked me to let them know when the Archives went up.
If you would like to be kept apprised of updates please send me an email dayton@javanet.com
and if there is interest I will put together an update mailing list.

I look forward to hearing all of your thoughts and suggestions and general feedback,
so please let me hear from you! And if you have any goodies -
we are always looking for articles, photos, and memorabilia that we don't have.

So without further ado point your browsers to:

http://www.michaelbutler.com/hair/holding/Hair.html

Love, Nina



Sun, 8 Apr 2001
hi dagmar!
ich hab mir in wien die wiederinszinierung von hair angesehen
und natürlich das 'making of', das im fernsehen war.
ich bin ein riesen fan von hair und von den photos, die im raimund theater
zu sehen sind. ich finde, die sind einfach genial geworden!
das wollt ich nur einmal sagen!
ganz liebe grüße,
Lena Netrval (lenni_neremove@gmx.at)



Mon, 26 Mar 2001
HAIR and more
hey cousin:
i saw "hair" in nyc in 1971. i will never forget it.
i still swoon when i hear the music.
i think all of my growth stopped with the 1960s.
in so many ways it would be great to do that all over again.
i think it is wonderful that you are getting so much good publicity.
if i knew of any resource for anton, i would let you know immediately.
unfortunately, i have spent my life in the social sciences
and have not paid enough attention to the arts.
i deeply regret that and am just beginning to "feel" what i have missed.
Norm Wyers



Monday, March 19, 2001

LATEST HAIR NEWS:
HAIR is going through a new incarnation in Vienna, Austria!
Since it is my hometown, I am especially thrilled to have been invited
to have a concurrent photo exhibit in the foyer of the Raimundtheater!

"HAIR - in the beginning..."
I am showing 80+ photographs taken in 1967, Off Broadway, at Joe Papp's,
and at the Biltmore, on Broadway, in 1968.
It premiered on March 10th, to great acclaim and
I did lots of TV and newspaper interviews,
last night the latest one aired in Austria: "THE MAKING OF HAIR"
a 30 min special, for which I also went to NYC in Jan.
Here's a picture taken by Conny in Vienna, Opening Night:




with Rudi Klausnitzer, producer, the surviving author James Rado, composer Galt MacDermot and a Viennese lady.
"HAIRHAIRHAIR" - one of my pics - on the wall behind us!
I am preparing a page on the Viennese production.
It will be linked from my main HAIR page.
Dagmar



Sun, Feb 11, 01

hi its charlie again,
i dont know if u still remember me but any way i told u that me and my school
did a production of hair in england.
me and my friend have done a web page on it
i thought u might like to take a look the address is
www.geocities.com/madbluejellyfish
at the bottom there is links to the other productions we have done
take a look at those to let me know what u think bye, take care, Charlie



Wed, Jan 31, 01

Dagmar,
Thank you so much for replying to a total stranger. Yes, I did finish my
thesis - last spring. I graduated in May 2000. I was fortunate, via the Internet,
to learn of a production of HAIR at the University of New Mexico in Albuquerque last April.
I emailed with the director, Dave Jones and was able not only to attend,
but also to go backstage and talk with the actors. It was absolutely fabulous!
The university hard-bound copies and I am preparing to have more bound.
I would be honored to have you read it. I included photos that I took before
and after the presentation. Unfortunately I was not able to attend dress
rehearsals and shoot then. I produced my photos digitally - my first attempt
and included them in the book. It brought back many of those old memories.

Thank you for writing and for keeping my email.
I would love to meet you some day. I admire the work you have online.
Take care. And thanks again.
Jeanie Davis (JDREAMSremove@aol.com)



Tue, Jan 30, 01

HELLO SUPER GOOSY GASSY PEOPLE
HELLO THERE
MY NAME IS CHARLIE
I LIVE IN BRISTOL WHICH IS IN THE UNITED KINGDOM
ME AND MY YEAR GROUP AT SCHOOL PERFORMED HAIR
IN OUR ANNUAL THIRD YEAR PRODUCTION WEEK. WE ENJOYED HAIR A LOT.
THIRD YEAR PRODUCTION WEEK IS WHERE WE HAVE TO DO EVERYTHING
AND SHOW THE PERFORMANCE OF THE SHOW ON THE FRIDAY EVENING
AND WE START DOING ON THE MONDAY MORNING OF THAT WEEK
SO WHEN YOU THINK ABOUT IT WE DIDN HAVE THAT LONG REALLY DO GET EVERYTHNG DONE.
BUT WE MANAGED IT MIND YOU THE SINGING IN MY SCHOOL IS INCREDABLE.
WE HAVE THE VIDEO OF OUR PERFORMANCE AND IT WAS BRILLIANT.
ANYWAY DID U ENJOY HAIR?????
DO U KNOW WEATHER U WILL BE TOURING AGAIN????
THANK-YOU FOR YOUR TIME!
PLEASE E-MAIL ME BACK
BYE
CHARLIE (CHARLOTTE NELMES, chazzerremov99@hotmail.com)



Wed, 17 Jan 2001

Hair revival
Greetings Dagmar:
First, I would like to express how much I enjoy your webpages related to
your work on the original productions of Hair. They are extremely unique
and a great presentation of your material for the entire world to enjoy.

I work at City Center in New York, one of the city's oldest and largest
non-profit theatres. We produce the very popular series, Encores!
Great American Musicals in Concert. This year, our gala fundraising title is HAIR,
directed by Kathleen Marshall in cooperation with James Rado.
Encores! has proven to be a huge success in that the shows are revived and
performed in the simplest production possible, with full orchestrations and choreography.
For our gala presentation of Hair on May 7, 2001, we are hoping to invite
those originally involved with the production. I am wondering if you are
willing to contribute any contact information regarding those cast members
with whom you may be in contact.
Sincerely,
Seth A. Marquette
City Center Administration
130 West 56th Street
New York, NY 10019
Marquette, Seth (smarquetteremove@citycenter.org)



Sat Oct 28 00

Re: Hair photographs
Hi Dagmar,
I have put together a page for the archives with seven of your photos -
I love them all so much that it is almost impossible for me not to want to use them all,
but I must leave something to encourage folks to go to your site and see the rest! ;-)
There are some great rehearsal shots in Lorrie Davis' book,
and some great production shots in the vocal selections book
(although the printing quality there is less than I would like)
and I am tempted to scan a few of them, but we shall see.
I want to go through the photos I have scanned into the archives already
and see which scenes in the show aren't represented at all,
and perhaps use photos of those scenes...
Do you have any in particular that you would like to have in the online archives?
I've just been a fan of your work for so long that I would like you to be happy with whatever I put up.
Nina (daytonremove@javanet.com)



Sun Oct 1 2000

Hi Dagmar!
Thanks alot for your email! I never knew Mike gave you my url!
Anyway, I've already added your site to my linkssection :)
Of course you can put mine on yours. Here's the url:
http://www.geocities.com/Broadway/Mezzanine/1553
Thanks alot and I hope to hear from you!
Groetjes,
Ilse, "H.A. Solleveld" (solrdsremove@worldonline.nl)



Wed Aug 2 00:57:17 2000

Hey there--
Thanks for the response, it was flattering to hear from the famous Dagmar!
If you are in the LA area anytime in August, you should come check us out.
I think you would be amazed by the quality of the show and the talent of the teens.
The energy is raw and juicy, wonderful to witness.
Once again, thanks for the reply. Good luck with all of your endeavors.
Talk to u L8R!
Jeremy (YOuRmInDaT3aMremove@aol.com)



Tue Jul 11, 2000

Hey there!
My name is Jeremy Lelliott.
I am 17, and I am producing the first ever teen production of HAIR.
We have been rehearsing since April and we go up next month
at the Gene Bua Theater in Burbank, CA. Here is the url to our site:
http://members.spree.com/business/kgraas/hair.htm
By putting teenagers in the roles written for teenagers we are rejuvenating
the freshness and taboo of HAIR, giving it a special place in the millennium.
I would love to answer any questions you may have.
Thank you so much!
JerBear (YOuRmInDaT3aMremove@aol.com)



Wed, June 21 2000

Hello my name is George Berger. Or it is for the next week anyway...
Add me to your list. My name is Andrew R. Fegley. I am doing a production
of Hair in South Jersey. We had 4 performances last weekend and 3 more
on the way 6/22, 6/23, 6/24.
Richard Amelius (Claude) and myself (Berger) started our own
Theater Production Co., New Art Theater Productions
soley so we could buy the rights to Hair and perform it.
I heard rumors of this so called "Cyber Tribe" so I decided to hunt it down.
I know it is a lot to ask but if you are in contact with James Rado
I would love for you to pass him my e-mail address.
I want to invite him to our show. Hell, CherryHill NJ is not too far away from Hoboken.

Anyway...add me to your list. I am spiritually connected to this experience.
I'm sure you know what I mean if you have this page up and running.
Sleep is a thing of the past.
Any audition info you may have for upcoming tours of Hair
would be appreciated as well.
I have been told from several people who have attended our show that saw
the original musical performed on Broadway that we do a wonderful job
as a cast capturing the essence of Jim and Gerry's work.
I would love to share this with him and as many others as possible.
Peace & Love
Berger "trinityc1" (trinityc1remove@email.msn.com)



17 May 2000

I've been looking for info on Hiram Keller for a very long time.
To me, he is one of the most talented and beautiful actors that I have ever seen.
I have not been able to come up with any information on him,
other than actor filmography, until now.
I just want to know for sure if what I read is correct.
WHY DID THEY GO? IN MEMORIAM HIRAM KELLER.
I'm very sad to hear of his passing. I was wondering if you knew when?
I'm going to create a tribute to Hiram Keller in the near future and will
give a link to your wonderful site. Your photograph of him made my day!!
Thank you,
James Thurston (ThurstonCellaremove@gateway.net)



Wed, 26 Apr 2000

Happy Birthday HAIR
April 29, 1968

A special thanks to Jim, Gerry and Galt
for conceiving this child of Aquarius, to Tom for teaching it to walk,
to Michael for giving it to the world
and to the Tribe, past and present, for giving it life.
David (DJames333remove@aol.com)
http://www.hairtribe.net



Fri, 07 Apr 2000

Hello,
My dad (Steve Gillette) was in the cast of Hair.
Thought ya might like to know.
Lance (LongCanyonGypsyremove@aol.com)



Sat, 11 Mar 2000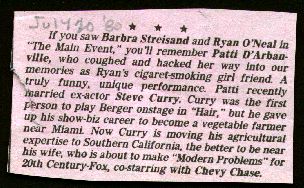 This is dated 1980 and they are long divorced.
but it sure would of been fun if they had stayed married.
Patty D'Arbanville is quite an interesting person herself.
bobbi (ladybearremove@snowcrest.net)
Organization: Ladybear's Den http://www.snowcrest.net/ladybear/



Fri, 10 Mar 2000

Greetings, Dagmar and Anton!
Thanks for inviting me to your page. your work is lovely!
i have been considering a move to Tucson after 30 years of living
in Mt Shasta, California. if that happens, i hope to meet you both.
i was amazed as i surfed thru your site tho. we have a HAIR connection!
Dagmar, i don't know if you may remember my friend, Steve Gamet.
he was in the original tribe.
if you would like to contact him you may email him at: nadacaca@aol.com
i met Steve and his wonderful wife, Cindy, while i searched the internet
for another original tribe member. his name is Steve Curry, he played Woof.
i dated him in his old New York City days !1966! while he sang in a band
at Michael Butler's club, Ondine's.
Thanks for touching in and i'll continue to surf thru your pages.
Peace, bobbi (ladybearremove@snowcrest.net)



Thu, Mar 9, 2000

Hi Dagmar!
I loved your site.
I'm so envious that you were actually a part of "Hair" - WOW!
Scarlett (scarlettazremove@THERIVER.COM)
(http://ScarlettDecker.homestead.com)



Mon, 31 Jan, 2000

It was interesting to see your reminiscences about HAIR.
My one experience was in the summer of 1969 in Ames, Iowa,
where I was attending college.
The road show for HAIR came to (or through?) Ames,
and a couple of the actors stayed in our apartment building.
I have no idea who they were, but I remember some good talks.
Kathi (SorrellMremove@aol.com)



Sat, Dec. 4, '99

Thanks for the Memories. :-)
Love,
Michael (MigDuttonremove@aol.com)



Thu, 11 Nov '99

Hello Dagmar! It's true... We closed Pilgrim Center for the Arts in late 1997.
We had a good 8-year run, but after that I was tired and there were too many problems
with the politics of a shared space in a church.
Now I work as marketing director for a natural foods co-op here in Seattle.
It's a great job for me. They do have a web site which I'm responsible for: www.centralcoop.com
I spoke with Mary Davis this week and was disappointed to learn
that the HAIR concert in December is postponed.

Marje LiPari had dinner with my folks in New York this week.
She ran into my sister at a wedding and again on the subway,
and our HAIR connection came out in their conversation.
My family knew Victor LiPari well (Marje's brother).
Small world!
Love,
Walter (Michael) Harris (wmichaelharrisremove@earthlink.net)



Fri, 05 Nov 99

Hi Dagmar!!!! It's Mike Messer, Berger from that last HAIR tour....
it's has been a long time since I "talked" with you...
I hope you are well, active & creative, and in good MAC form!
Right now I'm doing a project with Tom O'Horgan at LaMama,
and your photographs are on the walls! So I thought of you and decided to drop a line.
I hope to hear from you when you have time!
Love
Mike , "Michael Messer" (mancub212remove@surfree.com)



Thu, 4 Nov 1999

Hello! (About your webpage..)
I just wanted to say that you have some really great photos on your site!
I am an avid fan of Hair, and when I first saw your site, I just about exploded with glee.
I rented Hair over the summer, and after that devoted all my time
to researching it's orgin, etc. What a magical thing it is indeed!!
And boy is it addicting.... Anywho, I just wanted to say thanks for your page,
because it's a wonderous thing to marvel at, and all the photos really embody
the spirit of the production. You must feel lucky to have been a part of it!!!
Samantha (or Sam... either way) (HunguponWoof@aol.com)
P.S. Do you have any photos for sale? If so, I am extremly interested!!!!



Just a note:
I have been asked several times, if my photos may be used on private homepages:
Yes, they may. Please, whenever you show or use my photos,
do give me credit and, just for the record: actual photos can be bought!
;-)
Dagmar (akstudio@flash.net)




Last modified: December 29, 2006



BACK TO DAGMAR's BEGINNINGS

TO THE GUESTBOOK ARCHIVES