ICONS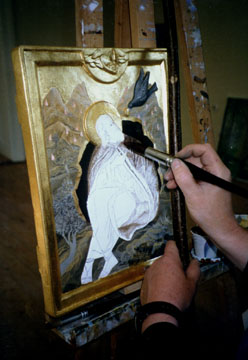 Anton in 1997, in his studio in Castle Bernau, Fischlham, Upper Austria,
working on an icon, which he carved out of one piece of wood,
then partially covered with goldleaf, and painted.
The image is traditional. It represents Prophet Elias,
fasting in the desert, as a bird brings him bread.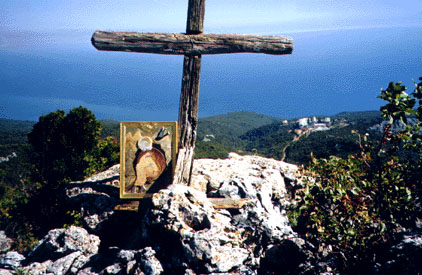 Anton took this photograph in the fall of 1997,
during his pilgrimage on Mount Athos,
when he carried the finished Icon with him, to bring it to his friend,
Monk Panteleimon ,
as a gift for his 50th birthday.

As Anton walked across Mount Athos, stopping at several monasteries
en route to Jovannitsa, the Icon was held and revered by many monks.
Today, in 2004, this very special Icon continues to be appreciated and loved
in its permanent home in Panteleimon's church.



We started to count our visitors on February 11, 1997





BACK to Mount Athos




BACK to the PORTFOLIO

---
---
Last modified: May 23rd, 2004 Image scanning and layout by Anton
Page prepared by DAGMAR
akstudio@flash.net