---
The start of a new adventure:

the arrival of my very first computer (a Power Macintosh 8500) with all the trimmings, in March 1996, when I didn't yet know that two weeks later I would be in tears and ready to throw the whole kaboodle into the pool - and drown myself right along with it!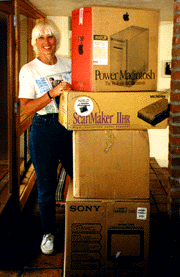 Well, I guess we've all come through it and survived
with the help and encouragement of those who've gone before...
Here's to some of my moral and technical supporters,
who convinced me that the pool was really no option:

Anna , Fred, Gary, and Ruth

Thanks for answering my S.O.S. emails at all hours of day and night!
You were right: this stuff is really FUN!!!

And to the one who shall remain unnamed,
who told me that starting at this point in my life I'd never catch up,
I was "too far behind in the learning curve" :
I chose to interpret this as a challenge.
Where are you, by the way?
(I think that's him, back there in the dust!)




So, what did I do B.M.?
(Before Max. That's my computer's name: Maximilian)


I was born in Vienna, Austria, on a cold clear Sunday, one January 26th...
grew up with Mozart's melodic music, mountains, much laughter,
and maybe a bit too much chococolate and whipped cream...
(although, as May West used to say:
"Too much of a good thing is - WONDERFUL!",
with which I definitely agree.)

And I was always talking to the animals, wild or domestic,
like Dr. Doolittle in one of my first English books.
I'm still doing that, by the way, mostly just using telepathy.
(Although there is Rudi The Roadrunner, who comes around lunchtime
and we go "tooktooktooktooktook" back and forth.
He's easy to understand, and I'm sure he's certain he has me trained,
because I invariably appear with food when he calls.
Last year he brought me a lizard-present.
Poor lizard! I didn't know how to react, but Rudi must have picked up my objections.
I never got another one.
All other lizards were presented to his mate, Rani,
who knows how to show her appreciation..)


Rudi and his gift.

Over the years I have watched and photographed the roadrunners hunt, mate,
build nests, feed their young and see them go...
Here is a spring portrait of Rani sitting on a blooming mesquite tree branch,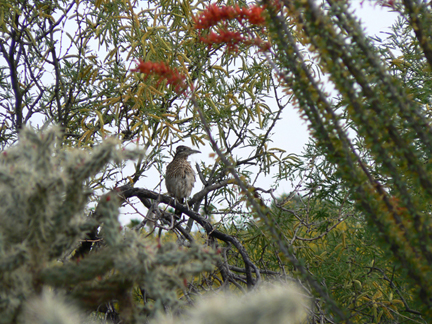 near her nest (not seen here) in an ocotillo (foreground).






I started taking pictures at age 8,
with one of those point-and-shoot plastic wonders.
I remember one "Foto", not quite in focus, of a circle of small feet
- my friends', at summer camp -
surrounding a kitten recently rescued from some disaster.
(All it said at the time was "Miau!")

Studied human languages (I speak six and am trying to tackle a seventh);
travelled a lot, where those languages came in handy;
and finally made it to America to work at United Nations:
but found that too restricting, too stuffy, not all-embracing as I had imagined...
Disillusioned, I quit, but decided to stay in New York,
against everyone's advice,
("there must be thousands of starving photographers in this town!")
determined to "make it" doing what I like best: taking pictures.
Babysat a chimpanzee; copyedited books for various publishers;
did translations; typed film scripts at night for a budding filmmaker;
worked part-time at photographer Hans Namuth's Studio in Manhattan;
and on my own did ballet photography and animal and people portraits
- many of/for future models and actors/actresses,
in my great outdoor studio: Central Park,
and on my rooftop on East 50th Street,
where there was an especially handsome textured wall
in greys and blacks... and a backdrop of skyscrapers.
(I always preferred natural light.)

One day, my dancer-friend Erroll Addison Booker
took me to see a new Off-Broadway Show a friend of his was in.
Naturally, I brought my camera.
I remember my first impressions:
it was colorful and wild, crazy and wonderful. And I loved the music.
It was HAIR, of course,
produced by Joseph Papp, impresario of the Shakespeare Festival.
There's a film being finished as you read this, about Joe Papp's Life and Accomplishments.
I shall have some photos in it, taken back then, in 1967!


By the way, coming up in April 2012
HAIR's 44th BROADWAY ANNIVERSARY!
I have the feeling there will be celebrations.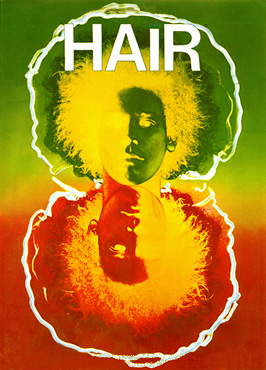 DETAILS TO BE ANNOUNCED!



But back to a time that doesn't seem to be a mindboggling 40 some years ago...
The pictures turned out great. Everybody loved them.

Gerome Ragni and James Rado,



the two HAIR authors, told me:
"When we go to Broadway, you'll have to do the photographs."
Galt MacDermot, who had written the fabulous music, agreed.
I was proud and thrilled.
(Even though I didn't allow myself to believe that the show would ever make it to Broadway.)
Nice dream... wishful thinking...
But: IT HAPPENED!

Michael Butler, from the Butler Aviation (and Paper) dynasty in Illinois,
got involved and was going to produce the show.
One of his partners was an extraordinary French - Corsican guy,
Bertrand Castelli,
who would be the executive producer.
Bertrand was the one who called me one day to bring in my portfolio.
Jim and Gerry had kept their promise, they had suggested me as the company's official photographer.

I was a little bit nervous, since I was not a union photographer,
but projected lots of chutzpah, as the New Yorkers would say -
while I would prefer to call it "good old Viennese charm and confidence".
I knew that my work was good. Would he think so, too?
After he'd studied every one of the photographs I had brought (non-HAIR pictures, too),
he looked straight into my eyes, as ashes from the cigarette he had forgotten dropped all over his suit,
and I was holding my breath -
and asked, in his French accent: "What sign are you?"
"Aquarius" I answered, truthfully.
" Eh bien", he smiled, "you're hired!"


YES!



HAIR, The American Tribal Love-Rock Musical
opened on Broadway at the Biltmore Theatre, on April 29th, 1968.


Nothing was ever quite the same after HAIR.
Good and bad things have been said about it, but one fact remains undisputed:
the experience of being involved with this "groundbreaking" musical
changed all of our lives.
There is a permanent connection. Like belonging to a fraternity.
It was the start of my career as a rock photographer/photojournalist.
My pictures appeared in the official HAIR Program, in the Pocket Book version of the Play,
in a book of Vocal Selections (published by United Artists Music. Co., Inc, NY)
in LIFE, TIME, The New York Times and in many other international publications.
The latest, a book simply titled "HAIR - Let the Sun shine in",
written by Eric Grode and published by GOODMAN/CARLTON Books in London,
came out in October 2010, with over 100 of my photos of the original shows.

I am - again - in the process of putting together a portfolio of "vintage" photographs from 1968:

MY HAIR
HAIR: The Authors
HAIR: Backstage, Off Stage and All Over The World
(in preparation)


A note of caution: all pictures on this site are copyrighted by me!
Please keep that in mind.
If you would like to buy prints, or use the photos in any way,
do get in touch with me.
Yes, you may put them on your pages,
if you give me a photocredit and a link back to my site.
(And let me know about it!!)
Fair? Okay!


HAIR: The Cybertribe
They're out there!! Here are my links to other HAIR related sites.
HAIR: Curls and Locks
Thoughts, Quotes and Comments from you .







WERNER SCHMID UND BETRAND CASTELLI PRÄSENTIEREN
DAS AMERIKANISCHE SCHOCK- UND ROCK-MUSICAL

HAAREHAIR

I flew to Munich later that year to help with the translation of the lyrics,
to take the official photographs and be assistant director
to Bertrand Castelli, who spoke French and English, but no German.
(I had seen and photographed the play so many times that I knew exactly
where anybody stood or what they did at any given moment.)
I also did the cover art for the German LP: a portrait of BERGER
with a wild head of hair, which is really a collage I made with cutouts of my photos
of kids in the two casts, in various scenes,
interspersed with pictures of the directors and producers here and there.




The BOOK and the MUNICH PRODUCTION

I'm still in touch with many of the original cast members of both the Broadway and the Munich productions. And I'm always working on a page that will tell you about them:


STRAY HAIRS
WHERE HAVE THEY BEEN, WHERE ARE THEY NOW??




And then? What happened next?
NOT EVERY DREAM COMES TRUE .
I witnessed and photographed assorted plays, among them the exciting rehearsals and ultimate demise of DUDE and a couple of other musicals, which disappointed their creators,
did the stills for RICHARD, a movie that was never released,
and then found my niche in Rock & Roll in the Seventies, on stage and behind the scenes,

WOULDYOU LIKE TO HEAR AND SEE MORE?

A SELECTION OF BOOKS, IMAGES and PROJECTS

DAGMAR's R 'n'R ARCHIVES

DAGMAR's R'n'R MEMORIES

DAGMAR's INTRODUCTION

Questions?



Agencies that carry some of my photographs:

Animals Animals/Earth Scenes, New York,

INTERTOPICS, Hamburg



SHOOTING STAR, Los Angeles

and for many wonderful years I was also represented by STARFILE, in New York,
which unfortunately closed its doors, when owner Virginia Loehle left the planet in 2006...


ANTON's PORTFOLIO

ATELIER ANTON KRAJNC IN CYBERSPACE
DAGMAR's HOMEPAGE
---
Last modified: Febuary 8, 2012 Page prepared by Dagmar
email me