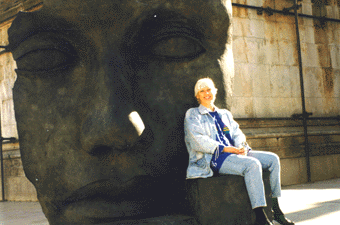 HI! I'm DAGMAR
I'm married to Anton Krajnc, the "Monster" - I mean "Master!", of course (don't mind my accent!) -
and I have tried very hard to make this webpage interesting, fun and informative.

----Dedicated to my husband----

A Zen Buddhist text I have found states:
"The master in the art of living makes little distinction between his work and his play,
his labor and his leisure, his mind and his body, his education and his recreation,
his love and his religion; he hardly knows which is which.
He simply pursues his vision of excellence in whatever he does,
leaving others to decide whether he is working or playing.
To him he is always doing both."


(The photograph was taken in the main square of Pietrasanta,
world-famous Italian town of marble and sculptors.
The fabulous head is by MITORAJ)





I'm a photographer/writer with extensive archives of Seventies Rock Groups and other treasures...
My work has been published in many international magazines and books
on HAIR (the groundbreaking musical), Elvis, David Bowie, Eric Clapton, Elton John, Rod Stewart, Donna Summer,
and most recently: FACES (Genesis Publications), and The ROLLING STONES (Carlton Books).
There are currently several other topics in preparation, and a link to a page with more details.
My first very own book as author/photographer was published by eventAKTIV in Vienna, in 2002!
It is titled "ELVIS! by Dagmar" and is a photo-memoir of my three days
on tour with the King, in September of 1970.
Read more about it!
Not all of the books I have contributed images to are about Rock'n'Roll -
Dominic Lutyens and Kirsty Hislop published "70s STYLE" in England.
...which reminds me of a couple of projects I've had on the back burner for much too long:
my own book on Seventies ROCK Phenomena!! --
and maybe "Rod Stewart! by Dagmar"? YES?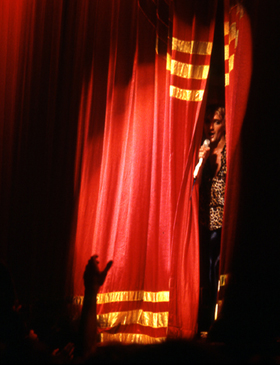 My first "serious/not serious" job was as company photographer for the Musical 'HAIR'
in New York and Munich, in 1968. It was a truly fascinating time...
Come back to this link to the story of my beginnings, after reading the rest of the page!
(I'm also putting a link at the bottom of this page)







For many years now my main photography subject
has been my husband Anton Krajnc and his art.
A very special book is in the works: a large size compilation of Anton's creative life.
LINK TO THE BOOK SOON TO COME

MEANWHILE, VISIT ANTON'S PAGES

do take a look!

Also in the works: a page about my "serious hobby": four legged friends and visitors.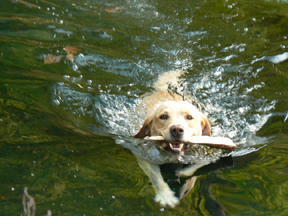 Giotto and his favorite pastime

LINK TO MY CRITTERPAGE SOON TO COME

And here, in memory of another wonderful companion at castle Bernau.
is a picture of Dagmar with Burla, quite a few summers ago...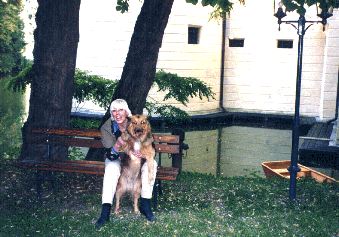 SEE YA!
THE STORY OF MY BEGINNINGS

THE LATEST IN MY ROCK-and-PHOTO PAGES

A GLIMPSE INTO MY ARCHIVES...


DOWN R'n'R MEMORY-LANE...




ANTON'S PORTFOLIO

TO ANTON's STUDIO





HOME

Last updated: February 15, 2012